Le Mont-Kemmel French Military Cemetery
Entrance to Le Mont-Kemmel cemetery.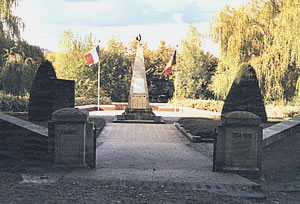 The cemetery was created in 1922 and contains a total of 5,237 unknown French soldiers and 57 identified French soldiers, all commemorated in an ossuary. There are no individual grave markers in this cemetery.
The cemetery was redeveloped in 1924 and 1932, when the unknown dead previously buried in Saint-Charles-de-Potyze French military cemetery were reinterred here. In the years 1961-1962 and 1986-1989 the cemetery was renovated.
Memorial at the French ossuary at Mont-Kemmel (Kemmelberg).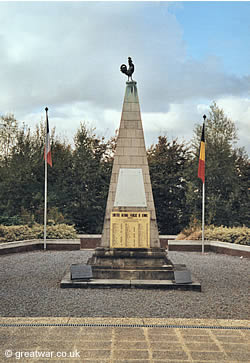 The French flag flies on the left of the ossuary memorial, the Belgian flag flies on the right.
The cemetery is 2,050 square metres in size.
Location of Le Mont-Kemmel Cemetery
The ossuary is located on the western slope of the Kemmelberg (Mont Kemmel) on the lane leading to and from the summit.
Related Topics
Cemeteries & Memorials in the Ypres Salient
Cemeteries in the Ypres Salient
Monuments and Memorials in the Ypres Salient
St. Charles de Potyze French Military Cemetery, Potijze
For information about the French cemetery from where the unidentified were exhumed and brought to Le Mont-Kemmel go to our page at:
Saint-Charles-de-Potyze French Military Cemetery
Find out more about the organization which looks after the WWI French military graves at:
Le Ministère des Pensions
Acknowledgements