Bayernwald German Trenches, Wijtschate, Ypres Salient
Trench system at Bayernwald.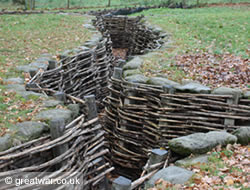 The Bayernwald Trenches are a carefully restored section of an original German trench system dating from 1916. The reconstruction was carried out in the original trench section under archaeological conditions.
The trench system allows visitors to walk through a significant area of German trenches, which include the following features:
sandbagging
trench sides made of woven wickerwork branches
duckboard walkways
stone and reinforced concrete dugouts
mine shaft "Berta 4" (secured and covered)
Visitor Information
Shelter building containing information panels.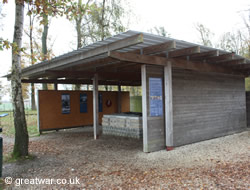 There are a number of display panels in the area of the trenches and in the small shelter building on the site, which give an overview of the site and which explain some of the trench features in more detail.
There is a bronze diorama of the 7th June 1917 Battle of Messines to help visitors with their orientation at the site.
Access to Bayernwald Trenches
Trenches at Bayernwald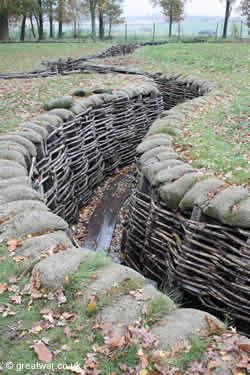 For the protection of the site access to the Bayernwald trenches is by ticket only. The trenches are located inside a secure perimeter fence and gateway. The entrance system has a scanner which reads a barcode and each visitor must have a ticket.
Details for access (valid for 2013 & 2014) are as follows:
Every visitor needs a ticket.
Tickets cost € 4 per person, € 2,5 for groups (20 persons and more) and € 1 for persons younger than 26 years old.
Children up to 7 years of age have free access, but also need a ticket.
Tickets can be purchased from the Tourist Office in Kemmel village or enquiries can be made by telephone and email:
Address: Dienst voor Toerisme, Sint - Laurentiusplein 1, 8950 Heuvelland (Kemmel)
Email: toerisme@heuvelland.be
Telephone: +32 (0)57 45 04 55
Website: www.heuvelland.be
Kemmel Tourist Office Opening Hours:
Summer from 1 April to and including 15 November:
Weekdays 09.00 to 12.00 and 13.15 to 17.00
Tuesdays from 09.00 to 17.00
Saturdays from 09.30 to 17.00
Sundays and public holidays* from 10.00 to 12.00 and from 14.00 to 17.00 (*27 April, 30 April, 1 May, 5 May, 18 May, 11 July, 21 July, 15 August, 01 November, 2 November, 11 November
Winter from 16 November to and including 31 March:
Weekdays from 09.00 to 12.00 and 13.15 to 17.00
Tuesdays from 09.00 to 17.00
Saturdays from 9.30 to 17.00
Sundays from 10.00 to 12.00
Closed on public holidays
Location of Bayernwald Trenches
The trench system is located off Vierstraat on the Voormezelestraat, which is a single track tarmac no-through road to the north of the village of Wijtschate (formerly called Wytschaete).
Related Topics
Battlefield Remains in the Ypres Salient
To see a list of other battle remains in the Ypres area available for public access or to be seen from a public place, see our page at: