WW1 Museums in the Ypres Salient, Belgium
There are a growing number of public and private First World War museums in the Ypres Salient area. They contain military collections ranging from rare battlefield relics and archive collections to original trench systems, dugouts and commemorative sites.
In the list below click

to show the place on the map or

to expand the details.
Related Topics
Artillery shells on display at the museum in the Ulster Tower Memorial to 36th Ulster Division on the Somme battlefield.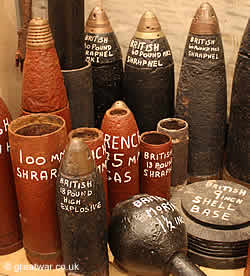 Battlefield Museums on the Western Front
Museums on the Yser/IJzer Battlefields
Museums on the Somme Battlefields
Museums on the French Flanders and Artois Battlefields
Acknowledgements
Photograph of Pond Farm courtesy of www.depondfarm.be