Mesen Historical Museum (Messines)
The museum is being refurbished, to re-open in 2014.
Location
The museum is located in the centre of Messines (known locally by its Flemish name, Mesen) on the market place.
Contact Details
Tourist Office of Messines, Markt 22, 8957 Messines
Telephone: +32 (0)57 44 50 41
Email: toerisme@mesen.be
Website: www.mesen.be
Related Topics
Visiting the Ypres Salient Battlefields
Spanbroekmolen Mine Crater, one of the 19 huge mines exploded at the launch of the Battle of Messines on 7th June 1917. The crater is now preserved as a peace memorial.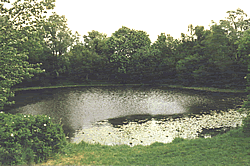 Museums on the Ypres Salient Battlefields
Battle Remains on the Ypres Salient Battlefields