Poperinge
The town of Poperinge is situated about 8 miles to the west of Ypres / Ieper on a direct road and railway link. The region is famous for growing hops. Poperinge is home to the national hop museum. There are over 800 different types of beer in Belgium. One of the famous local beers is Sixtus, which is brewed in the St. Sixtus Abbey near Proven, about 4 kilometres north-west of Poperinge.
Throughout the Great War of 1914-1918 Poperinge, or "Pops" as the British soldiers called it, was used by the British Army as a gateway to the battlefields of the northern Ypres Salient. It was an important rail centre behind the front line and was used for the distribution of supplies, for billeting troops, for casualty clearing stations and for troops at rest from duty in the forward trench areas. Thousands of troops passed through this small town at some time or other.
The main square formed the hub of five main roads leading into the town and, therefore, was constantly bustling with military traffic, military personnel and those civilians who had stayed on in the town. Because of its importance to the military behind the front Allied lines, the town was frequently targetted by long range German artillery. During the Third Battle of Ypres (31 July - 10 November 1917) Poperinge and the surrounding area was bombed by German aircraft. Some bombs landed on the Casualty Clearing Stations nearby.
Talbot House (Toc H)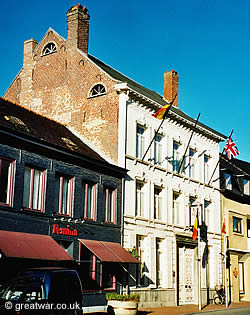 Talbot House, known as 'Toc H', is one of the very special places of First World War interest to visit in the Ypres Salient. It was established by the Reverend 'Tubby' Clayton in December 1915 as an 'Everyman's Club' for soldiers and officers of the British Army. It is now a 'living museum' and also offers self-catering accommodation for individuals and small groups.