Hooge Crater Museum, Hooge, Belgium
The Hooge Crater museum was opened by Roger and Rosita de Smul in 1994 in a renovated chapel and small school on the Ypres-Menin Road. Since then the museum has expanded several times and now holds many of the finest WWI collections in the area. It contains a unique collection of First World War uniforms, displays and military artefacts.
Since Roger's retirement in 2008 the museum is under the management of Niek and Ilse. The museum and café have undergone redevelopment and it is one of the finest museums for remembrance of the First World War in the Flanders area.
Facilities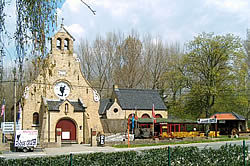 Gift Shop
A range of books, postcards and souvenirs is on sale from the gift shop.
Café
There is a café with indoor seating for 120 people, with additional seating for over 50 people outside on the terrace.
There are good toilets.
Groups (minimum 20 persons) can make a special arrangement with the museum to combine the museum visit with a meal. This is only available by advance reservation.
Opening Hours
Tuesday - Saturday: 10.00-18.00 hours
Sunday: 10.00-21.00 hours
Closed: Monday
Closed for winter annual leave: see the museum website for dates.
Admission
There is an admission fee. See the website for up to date tarifs.
Group Bookings
If you wish to book a visit or group visit please contact the museum by telephone or email. Visit the museum's website for group booking information and options for combined admission tickets.
Location of Hooge Crater Museum
Leaving Ieper (Ypres) via the Menin Gate, at the traffic lights turn right onto the N8 Ieper-Menen road, the Meenseweg (known as The Menin Road to the British Army).
The Hooge Crater Museum is located approximately 4 kilometres east of Ypres on the north side of the Meenseweg - the Menin Road in the converted Hooge chapel. The museum is directly opposite the Hooge Crater Cemetery, situated on the south side of the Menin Road (Meenseweg).
Hooge Crater Museum Contact Details
Museum Hooge Crater, Meenseweg 467, 8902 Zillebeke-Ieper, Belgium
Telephone: +32 (0)57 46 84 46
Email: info@hoogecrater.com
Website: www.hoogecrater.com