German Command Post, Zandvoorde, Ypres Salient
The command post at Zandvoorde.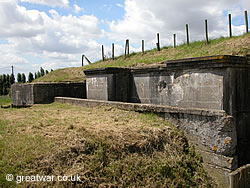 A First World War German reinforced concrete Command Post bunker has been preserved as part of a restoration project by the Memorial Museum Passchendaele 1917. The command post has been a listed monument since April 1999.
The bunker was built with reinforced concrete in 1916 by the 3rd Company of Armierungsbatallion Number 27. The men of the Company inscribed a concrete plaque with these details, and this still survives on the bunker today. An Armierungsbatallion was a labour unit in the Imperial German Army.
The concrete plaque inscribed on the command post.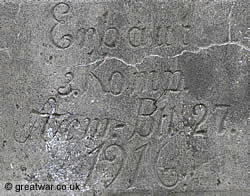 The bunker was used as a command post for a German regiment in reserve in this sector. In 1916 the Front Lines were approximately 5-6 kilometres to the north-west of this position.
The bunker is 19 metres long. The roof has protective layer of earth about 1-1.70 metres deep.
There are six rooms in the bunker leading off a hallway. The rooms include:
two rooms: one for the sentries watch post and one for their accommodation
two rooms: two Staff officers' work rooms
two rooms: two Staff officers' accommodation rooms
Access to the Command Post
The command post at Zandvoorde.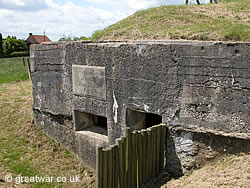 Access to the bunker is available at all hours through a narrow metal gateway. Visitors can go inside the bunker.
Admission is free.
Location of the Zandvoorde Bunker
Leave Ypres / Ieper from the eastern exit (through the Menin Gate Memorial to the Missing). At the traffic lights turn right onto the N8 Ieper-Menen road (The Menin Road). In approximately 2 kilometres you will come to a roundabout. This is the location of the crossroads known famously as "Hellfire Corner" to the British Army. Go straight over the roundabout, taking the N8 Meenseweg-Meensestraat in the direction of Menen.
Drive for approximately 8 kilometres to the village of Gheluveld. On passing through the village, at a crossroads junction you will see a signpost for Zandvoordestraat directing you on the right hand side to Zandvoorde village (3km). Take this turn and after about 3 kilometres you will bear right onto Kruisekestraat and within metres you reach the crossroads in the centre of Zandvoorde. (You can see Zandvoorde church to your front right.) Turn left at this junction into Zandvoordeplaats in the direction of Ten Brielen and Comines. As you leave the village the road name changes to Komenstraat.
After approximately 800 metres take the third road turning to the right at Gaverstraat (no-through road). The bunker will be seen in the field to the right.
Related Topics
Battlefield Remains in the Ypres Salient
To see a list of other battle remains in the Ypres area available for public access or to be seen from a public place, see our page at: