Sights to See in Ieper/Ypres
This page provides a listing and location of sights and places to visit in the city of Ieper/Ypres, many of which have a First World War interest.
Related Topic
Heritage Walking Tour rivet in the pavement, Ieper/Ypres.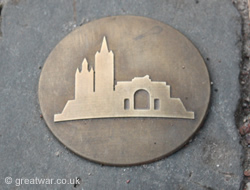 Guided Walks of Ieper
Information, maps and leaflets for self-guided walks around the town by map or walking tours with a guide is available from the Ieper Tourist Office. Two key routes are signposted or marked out for visitors: the Ramparts Route and the Heritage Route. The Heritage Route is marked on the pavements by a series of bronze rivets.
The Ieper Tourist Office website for more:
Website: www.toerisme-ieper.be Walking in Ypres
Acknowledgements