Hostel accommodation on the Ypres Salient, Belgium
The hostel information featured below is provided on this site as a guide to help organizers of groups including schools and the military. We advise you to make contact with the hostel or hotel listed here directly if you wish to know more details and make reservations.
In the list below click

to show the place on the map or

to expand the details.
Related Topics
A young visitor paying his respects at Tyne Cot Cemetery on the Ypres Salient battlefields.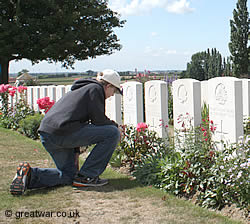 Battlefield tours for schools and students
WWI Education Resources for Teachers