Inspiration for Ewart Alan Mackintosh's poem - In Memoriam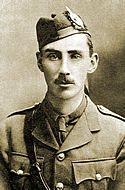 On the evening of 16th May, 1916 Lieutenant Ewart Alan Mackintosh (1893-1917) and Second Lieutenant Mackay of the 5th Battalion Seaforth Highlanders (of the 51st Highland Division) led a raid on the German trenches in the area north west of Arras. The experience of the raid clearly had a profound effect on Lt Mackintosh and, in particular, the death of one of his men, David Sutherland, inspired him to write the poem 'In Memoriam'.
The entry for 16th May in the Battalion War Diary reads as follows:
"Bn [battalion] employed in working parties. In the evening at 8.10pm after an artillery preparation 2 raiding parties under Lts Mackintosh and 2 Lt Mackay entered German lines on both sides of Salient at pt 127. 7 Germans were killed by being either shot or bayonetted and 5 dug-outs full of Germans were bombed. Also 1 dugout was blown up by RE [Royal Engineers]. All our party returned except one man who was left dead in German lines. It is estimated that German casualties must have been between 60 and 70. Our casualties were 2 Lt Mackay slightly wounded, 2 men killed and 14 wounded. Two of the wounded have since died."(1)
The two soldiers from the battalion listed as killed on the day of this raid can be confirmed as Privates John McDowell and David Sutherland. Research into the details of these two soldiers has established that Private McDowell's body was retrieved and taken back to the British lines because he has a grave at Maroeuil British Military Cemetery.
'The Bosches have got his body'
Private Sutherland, however, who is the soldier 'David' in the poem, does not have a known grave and his name is inscribed on the Memorial to the Missing at Arras at the Faubourg d'Amiens British Military Cemetery. It can be assumed that "the man left dead in the German lines" mentioned in the battalion war diary is David Sutherland: "And the Bosches have got his body". The Germans may well have buried him in a marked grave at the time, but the whereabouts of his body are now no longer known and he is listed as missing by the Commonwealth War Graves Commission.
It is not known if the relationship between the two men was that they were friends. But, as the junior officer in command of Private Sutherland at the time, Lt Mackintosh would have come to know him through his duty of having to read outgoing letters from his men for censorship reasons. David Sutherland was from Achreamie in Caithness, a rural region in the far north of Scotland. The type of letter David would write to his father is reflected in the words of the second verse: "Not a word of the fighting, Just the sheep on the hill". David was aged 19 when he died.
In a recently published book about E A Mackintosh, Can't Shoot a Man with a Cold (2), the authors have discovered that David was not an only son, as he is described in the poem. He was in fact one of two sons. Their father was named Sinclair and their mother was the late Williamina Sutherland. Williamina had died in 1908 when David was 11 years old. David's brother also served in the Great War and returned home.
An Award for Gallantry
The Military Cross awarded to Lt E A Mackintosh. (3)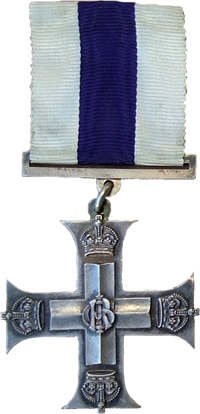 For his gallantry during the raid 2nd Lieutenant (temporary Lieutenant) Ewart Alan Mackintosh was awarded the Military Cross.
The citation for his award is listed two months later in the Supplement to the London Gazette, dated 24th June 1916:
"For conspicuous gallantry. He organised and led a successful raid on the enemy's trenches with great skill and courage. Several of the enemy were disposed of and a strong point destroyed. He also brought back two wounded men under heavy fire." (4)
Killed in Action
Orival Wood Cemetery, Flesquières, near Cambrai where Lieutenant Mackintosh is buried.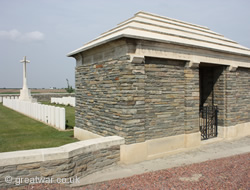 Lieutenant Mackintosh was killed eighteen months later on 21st November 1917 during the Battle of Cambrai. He was an extremely popular member of the battalion.
He is buried in Orival Wood cemetery, Flesquières, northern France (Plot I, row A, grave 26).
In Memoriam Poem
Related Reading
Can't Shoot a Man with a Cold
by Colin Campbell and Rosalind Green
For those wishing to learn more about Mackintosh the biography by Colin Campbell and Rosalind Green is highly recommended. 222 pages, Published by Argyll Publishing (18 Oct 2004), ISBN-10: 1902831764 and ISBN-13: 978-1902831763
War: The Liberator, and Other Pieces: With a Memoir (Paperback)
by E A Mackintosh
184 pages, Publisher Unknown (pre 1923); recent edition published (19 Aug 2010), ISBN-10: 1177466171 and ISBN-13: 978-1177466172
A Highland Regiment (Paperback)
by E A Mackintosh
98 pages, BiblioBazaar (4 Jun 2009), ISBN-10: 1110674740 and ISBN-13: 978-1110674749
Acknowledgements
(1) War Diary of 5th Battalion Seaforth Highlanders (51st Highland Division) ref. WO95/2866, National Archives, Kew, Surrey.
(2) Can't Shoot a Man with a Cold, Colin Campbell and Rosalind Green, (2004)
(3) Photograph courtesy of Barry Jenkins.
(4) The London Gazette online (Gazette Issue 29637 published on 23 June 1916; Supplement to the London Gazette, 24 June 1916, page 6299)