Before Action
by Lieutenant William Noel Hodgson, MC
View towards the village of Mametz (far left of the photo on the skyline) from the British Front Line position. Lieutenant Noel Hodgson and the men of 9th Devons were to attack the German Front Line at Mametz from here on 1 July 1916.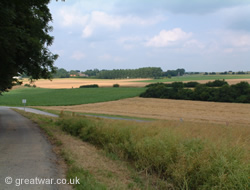 By all the glories of the day
And the cool evening's benison
By that last sunset touch that lay
Upon the hills when day was done,
By beauty lavishly outpoured
And blessings carelessly received,
By all the days that I have lived
Make me a soldier, Lord.
By all of all man's hopes and fears
And all the wonders poets sing,
The laughter of unclouded years,
And every sad and lovely thing;
By the romantic ages stored
With high endeavour that was his,
By all his mad catastrophes
Make me a man, O Lord.
I, that on my familiar hill
Saw with uncomprehending eyes
A hundred of thy sunsets spill
Their fresh and sanguine sacrifice,
Ere the sun swings his noonday sword
Must say good-bye to all of this; -
By all delights that I shall miss,
Help me to die, O Lord.
Inspiration for the Poem
Lieutenant Noel Hodgson, MC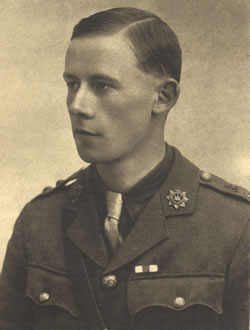 The poem Before Action by Lt Noel Hodgson, MC was first published on 29 June 1916 in the weekly paper The New Witness, two days before he went into action with the 9th Battalion the Devonshire Regiment on 1 July 1916.
Related Reading
Before Action - William Noel Hodgson and the 9th Devons, a Story of the Great War
by Charlotte Zeepvat
Published by Pen & Sword Military (5 Dec 2014); ISBN-10: 1783463759 and ISBN-13: 978-1783463756
Related Link
Find out more about Noel Hodgson and the book about him, published in December 2014, by author Charlotte Zeepvat. Charlotte has researched Noel and the 9th Devons for over 30 years.
Website: www.w-n-hodgson.info
Related Topics
Poems and Poets of the First World War