Nurse Helen Fairchild
Nurse Helen Fairchild 1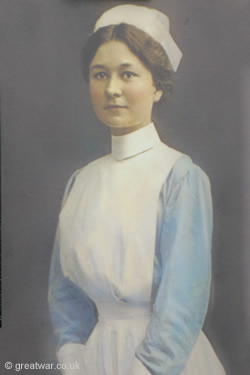 Helen was a U.S. Army Reserve Nurse.
Helen was born on 21st November 1884. At the age of 32 Helen volunteered to serve as a nurse as soon as the United States of America entered the war in April 1917.
Travelling to France via England she arrived at her posting to the Pennsylvania Base Hospital No. 10 at Le Treport in June 1917.
She volunteered to serve at the Front and travelled with a nursing team at the end of July to the rear area of the Ypres Salient battlefield and Casualty Clearing Station (CCS) No. 4 at Dozinghem. At that time the Third Battle of Ypres was launched and many casualties were being dealt with by this CCS. Conditions were extreme.
While Helen was at Dozinghem the CCS was attacked in the night of 17th August by aerial bombing from German aircraft. The nursing staff and patients had to be evacuated and Helen travelled back to the base hospital at Le Treport.
In November 1917 Helen became seriously ill after suffering from tonsilitis. She recovered from the tonsilitis but she died on 18th January in the No. 3 British General Hospital of a Gastroenterostomy operation. She was 33 years old. She had suffered from a large stomach ulcer which was considered to have been caused, or if not caused made worse, by exposure to Mustard gas. It is believed that on the night of the bombing at the CCS she had given her gas mask to a soldier and thereby exposed herself to gas.
Grave at Somme American Cemetery, Bony
Grave of Nurse Helen Fairchild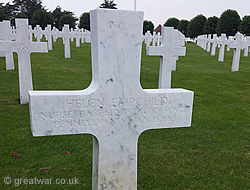 Helen was first buried at Le Treport, but later she was moved to the Somme American Cemetery at Bony. Her grave reference is Plot A, Row 15, Grave 13.
Useful Websites for Helen Fairchild Information
The following recommended websites have more information and transcriptions of original letters and documents for Nurse Helen Fairchild.
Website: www.roadstothegreatwar-ww1.blogspot.co.uk remembering veteran nurse helen
Website: www.gwpda.org Nurse Helen Fairchild
Related Topics
Medical Services
Medical Services in the First World War
Acknowledgements
1 Photograph of Nurse Helen Fairchild is taken of a picture of her on a memorial at Dozinghem to Nurse Fairchild, which was reproduced courtesy of Women in Military Service for America Memorial Foundation, Inc.