War Memorials Trust
First World War Memorial dedicated to The Rifle Brigade, Victoria, London.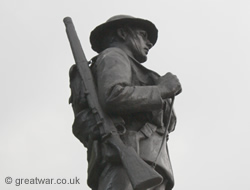 The War Memorials Trust is a registered charity which relies solely on support from voluntary contributions to carry out its work. The organization aims to protect and conserve war memorials in the United Kingdom.
More than 100,000 war memorials exist in a variety of locations right across the United Kingdom. Some are prominently visible in cities, towns or villages whilst others may be tucked away in schools, workplaces, churches and village halls. Some are dedicated to a group of indviduals as a Roll of Honour, and others may be dedicated to a particular individual. However large or small the War Memorials Trust wants to ensure the preservation of every war memorial and in so doing, ensure the preservation of the memory of those men and women for whom these memorials have been put up.
Volunteers
Figure on the Bracknell Town war memorial, Berkshire.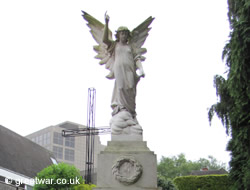 There are opportunities to volunteer to help the War Memorials Trust as a Regional Volunteer or on occasion to help with specific work in the London office.
Website: www.warmemorials.org Volunteer
War Memorials Trust: Learning Programme & Youth Projects
War Memorial in the churchyard at Kirkby Lonsdale, Lancashire.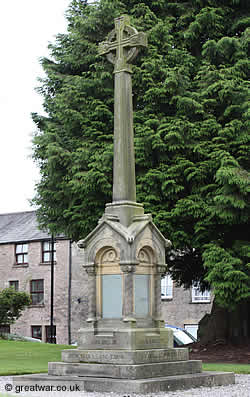 The War Memorials Trust actively encourages young people to find out more about the heritage, the history and significance of the many war memorials to be found across the United Kingdom. The Trust has compiled a programme of learning with lesson plans, projects, helpsheets, resources, plans for assemblies and advice on how to incorporate war memorials into teaching and study. Age ranges from Primary to Secondary school children are catered for. Youth groups, Cadets and Scouts are encouraged to volunteer and get involved in war memorial projects.
Two projects by the War Memorials Trust for the commemoration of the centenary of 1914-2014 specifically offer youth groups the chance to get involved with the protection and preservation of local war memorials. These are:
In Memoriam 2014 (War Memorials Trust in partnership with SmartWater)
Website: www.learnaboutwarmemorials.org/youth-groups/im2014/
War Memorials Online
Website: www.learnaboutwarmemorials.org/youth-groups/wmonline/
Learning Programme Website
Teachers and youth leaders are warmly invited to look at the dedicated website for the Learning Programme:
Website: www.learnaboutwarmemorials.org
Become a Member of the War Memorials Trust
Animals in War Memorial, Park Lane, London.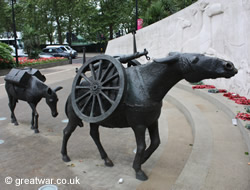 You can join as a member and help support the work of the Trust. For information about joining each year or for a lifetime membership see the War Memorials Trust website at:
Website: www.warmemorials.org Join
Donations to War Memorials Trust
Easthampstead Roll of Honour, Bracknell, Berkshire.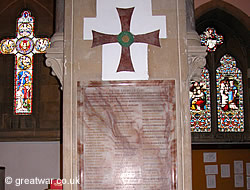 Donations can be made from within United Kingdom online, by post, or by mobile phone. Donations can also be received from outside the United Kingdom.
For information about how to donate to the War Memorials Trust go to their website at:
Website: www.warmemorials.org Donate
Contact Details
Roll of Honour at Waterloo Railway Station, London.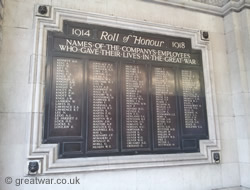 Address: War Memorials Trust, 42a Buckingham Palace Road, London SW1W 0RE
Telephone: Conservation advice and grants 020 7233 7356
Telephone: Administration, membership enquiries, fundraising 020 7834 0200
Website: www.warmemorials.org
Email: info@warmemorials.org
Registered Charity Number: 1062255
Related Topics
War Memorials Register (UK)
This is a project managed by the Imperial War Museum (London) consisting of an inventory and a database of names for all the war memorials in the United Kingdom. For information see our page at: