Families & Friends of the First Australian Imperial Force (FFFAIF)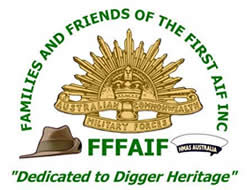 FFFAIF was established as an association in 2002. It was the idea of historian John Laffin, who put forward the proposal in 1998 to create an association that was "Dedicated to Digger Heritage". At the time he was attending the unveiling of the Australian memorial to commemorate the 4th July 1918 battle at Le Hamel on the Somme battlefield.
FFFAIF is committed to commemorating and preserving the memory of those who fought and those who died fighting with the AIF in 1914-1918.
Research projects are carried out, regular meetings take place and a quarterly magazine is published full of articles and photographs. The association conducts battlefield tours to Gallipoli and the Western Front.
Members of FFFAIF have been involved with the project at Fromelles since the discovery of the Australian military remains there, the establishment of the new Fromelles military cemetery and the development of the new museum there.
Membership
Members of FFFAIF are spread across Australia, Belgium, France the United Kingdom and the United States.
For information about membership visit the FFFAIF website or email:
Website: www.fffaif.org.au Members
Email: membership@fffaif.org.au
FFFAIF Contact Details
Telephone: 0448 266 634 (in Australia)
Mailing Address: PO Box 4208, Oatley West NSW 2223, Australia
Email: enquiries@fffaif.org.au
Website: www.fffaif.org.au
Related Topics
Australian Corps Memorial Park, Le Hamel
The Australian Corps Memorial at Le Hamel, Somme battlefields.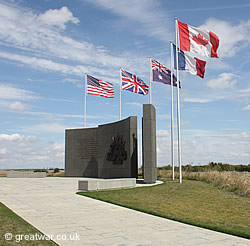 Australian Corps Memorial Park, Le Hamel
Franco-Australian Museum, Villers-Bretonneux
Franco-Australian Museum, Villers-Bretonneux
Acknowledgement
FFFAIF logo by kind permission of FFFAIF