The Western Front Association (WFA)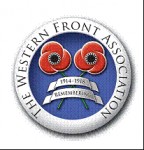 The Western Front Association (WFA) was founded by John Giles. It was inaugurated on 11 November 1980. It is a registered charity no. 298365.
The Western Front Association was formed with the aim of furthering interest in the period 1914-1918, to perpetuate the memory, courage and comradeship of those of all sides who served their countries in France and Flanders and their own countries during the Great War. It does not seek to justify or glorify war. It is not a re-enactment society, nor is it commercially motivated. It is entirely non-political. The object of the Association is to educate the public in the history of the Great War with particular reference to the Western Front. Applications for membership are welcomed from anyone with like mind.
Join the WFA
Membership is by annual subscription to the WFA.
There are over 6,000 worldwide members in the WFA. They have expertise and knowledge on a huge number of topics related to the Great War of 1914-1918. Members include professional and amateur historians, collectors, teachers, family historians and students. The common interest is the study and Remembrance of the Great War.
Journal and Bulletin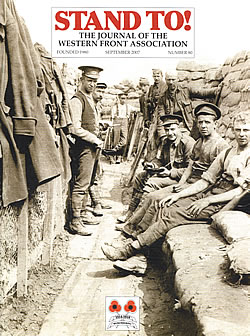 Membership includes a high quality quarterly journal, 'Stand To!', plus a quarterly 'Bulletin' containing articles, news and information from the WFA Branches.
Branches of the WFA Worldwide
The WFA has over 50 branches in the United Kingdom, branches in Australia, B.A.O.R, Canada, France, New Zealand, Republic of Ireland and the United States. There are also WFA affiliated branches in Belgium, Holland and Germany.
Branches meet regularly, many of them once a month, with guest speakers giving talks on a wide range of topics related to the First World War. Find out if there is a branch near you.
Education and The First World War
There is a wealth of experience and expertise within the organization which members are very happy to share. The WFA offers articles, dissertations and advice for teachers, students and researchers.
If you would like to see the resources available for WFA Learning Events and resources go to the website link and follow the Education tab provided below.
Contact The Western Front Association
For full details about the WFA, lists of Branch meetings, speakers and membership go to the WFA website at:
Website: www.westernfrontassociation.com
Related Topics
WW1 Remembrance Societies and Projects
Acknowledgements
WFA logo and front cover illustration of "Stand To!" courtesy of The Western Front Association.