Khaki Devil
"Khaki Chums" in Ypres attending a commemorative event.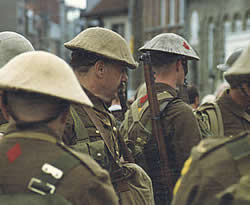 The founders of Khaki Devil, Taff Gillingham and Kev Smith, are both collectors of uniforms and equipment, providing First and Second World War historical advice for film and television.
In addition, for those groups with a very limited budget they have also established a service specifically aimed at schools, amateur dramatic societies and community theatre. For details go to the Khaki Devil website via the link provided below.
Email: khakidevil@taffmail.demon.co.uk
Telephone: + 44 (0) 1473 712 723
Website: www.khakidevil.co.uk
Related Topics