Khaki Devil
"Khaki Chums" in Ypres attending a commemorative event.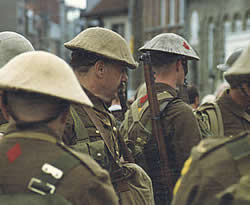 Khaki Devil was formed in 2001. Directors are Taff Gillingham, Tracey Mackenzie and Kev Smith. Khaki Devil provides First and Second World War historical advice, props, uniforms and equipment for film and television.
Services include:
Museum Exhibits
Props
Military Vehicles
Specialist Extras
Historical Advice
Equipment
Research
Trench Locations
Uniforms
For details visit the Khaki Devil website.
Email: enquiries@khakidevil.co.uk
Telephone: + 44 (0) 1284 388 986
Website: www.khakidevil.co.uk
Related Topics