Time Bandits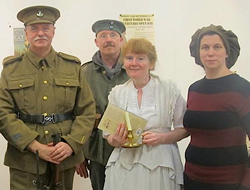 Time Bandits is a professional team of historical costumed interpreters and re-enactors who are dedicated to bring history to life in the North East and beyond.
They work with with a wide range of public sector organisations, from schools to museums.
Popular school workshops are suitable for Key Stages 1 - 4. Time Bandits specialise in a cross-disciplinary approach to stimulate reflection and interaction, in order to achieve a critical perspective as well as a wider understanding of key issues.
Clients have included the Alnwick Castle, Hartlepool Borough Council, LookwideUK, the National Trust and Tyne, Newcastle City Council and Wear Archives and Museums.
Contact Details
D. John Sadler BA (Hons) M.Phil, FRHistS, FSA (Scotl.), The Old Schoolhouse, Whalton Road, Belsay, Newcastle-upon-Tyne NE20 0EU
Telephone: 01661 881654
Email: john.sadler @ islmail.co.uk
Website: www.johnsadler.net
Related Topics