Time Bandits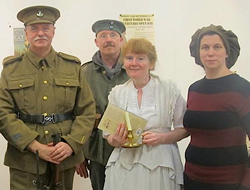 Time Bandits is a professional team of historical costumed interpreters and re-enactors who are dedicated to bring history to life in the North East and beyond.
They work with with a wide range of public sector organisations, from schools to museums.
Popular school workshops are suitable for Key Stages 1 - 4. Time Bandits specialise in a cross-disciplinary approach to stimulate reflection and interaction, in order to achieve a critical perspective as well as a wider understanding of key issues.
Current clients include the Alnwick Castle, Hartlepool Borough Council, LookwideUK, the National Trust and Tyne, Newcastle City Council and Wear Archives and Museums.
Goodbye to all That – The Great War Experience
Each session is intended to extend for a period of 45 minutes, (allowing for a 5 – 10 minute plenary session at the conclusion of each), split between three block sessions during the day, delivered in each instance by costumed interpreters with a full handling collection, viz: Uniform, webbing, inert ordnance & grenades, de-activated firearms, blunted edged weapons, trench maces, trench art, trench maps and battlefield relics, trench diaries & letters.
The sessions are intended to be essentially hands-on with discussion and interaction throughout; students will be invited to look at and handle the collection/artifacts, to read from diaries, memoirs, letters and poems. There will be simulations of drill, battle and aftermath. We will avoid lecture format with an emphasis on interaction and involvement. 
Time Bandits offer an opportunity to get hands on with war time foods. See how people saved money, fuel and lives by using what could be produced locally. Compare their ideas of healthy eating with ours and explore your local heritage at the same time. Do you know what a Northumberland pudding was? Wow your friends with date and nut sandwich filling and then watch them wriggle when you offer porridge bread to serve it on! Finish up with a salute to our allies - Anzac biscuits and maize scones.  
Students will compose their own 'letters from the Front', attempt their own poetry and have the chance to enact scenes from drama (Journey's End) and to act a tribunal. Students should be prepared by being encouraged to attempt period clothing, to research archive material and to consider any individual family histories they are aware of.  
Facilities required; two standard trestle tables; Power-point projection, TV & DVD, reasonable performance type area.
Session One – life in the trenches
Your Country Needs You;
It will all be over by Christmas;
Spit & polish – a beginner's guide to drill
Why fight in trenches?
Trench construction;
Stalemate;
Defence in depth;
Bombing up the traverses;
The daily round;
Feeding the trenches;
Dugouts – timber, steel and concrete;
Breaking the stalemate;
Redefining the Front – the Flanders Line.
Redcoats to Khaki;
Industrial warfare;
Rifle & bayonet;
Quick-firers & machine guns;
Gas;
Genesis of the tank;
War underground;
War in the air.
Session Two – the woman's role
Suffragettes & white feathers;
The Home Front;
'Munitionettes'
Women at war;
Testament of Youth – loss and grieving;
Nursing & VAD;
Getting the vote;
A generation of widows.
Session Three – for posterity; literature of the trenches
The War Poets; 1914 – 1916, patriotism to resignation;
The War Poets; 1917 – 1918; anger to despair;
Poets the war forgot – the scurrilous;
Writing the War; All Quiet on the Western Front, Journey's End; War Horse, Private Peaceful, Birdsong, A Long, Long Way;
The War in film; Paths of Glory; The Long Engagement, Birdsong;
History revised and revisited.
Session Four – Death of a Generation, the virtual Somme
Verdun;
The plan;
The bombardment;
1st July 1916;
The Night Attack;
Summer of death;
Autumn;
Counting the cost.
Session Five – into Battle
Trench raiding;
Winning No-Man's-Land; the Snipers;
Planning for the offensive;
'Over the top';
Fire & movement;
Up close – the bayonet;
The wounded;
The dead.
Session Six – the 'Just War'
What is a Just War?
'Gallant Little Belgium'
Propaganda & myth
Child soldiers
'Shot at dawn'
The work of the CWGC
The modern context.
Contact Details
Time Bandits
D. John Sadler BA (Hons) M.Phil, FRHistS, FSA (Scotl.)
The Old Schoolhouse
Whalton Road
Belsay
NE20 0EU
Telephone: 01661 881654
Email timebanditsuk@gmail.com
Website www.timebandits.org.uk
Related Topics