President Poincaré visits French troops in Flanders
10 April 1915
President of France Raymond Poincaré (left) and Minsiter of War Raymond Millerand (right) in early 1915.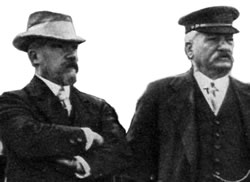 On 10th April President Raymond Poincaré left Paris with the French Minister of War Monsieur Alexandre Millerand to make a visit to French troops at the northern end of the Western Front. On this particular five day trip President Poincaré visited the sector in Flanders held by the French to the north of Ypres.
At the Belgian Army headquarters the French President met with King Albert I , King of Belgium. Following a parade in his honour at Dunkirk, President Poincaré returned to Paris.
Next>> Pressure to try out the gas trial
Notes
Raymond Poincaré (1860-1934) was President of the Third French Republic for seven years from February 1913 until February 1920.
Étienne Alexandre Millerand (1859-1943) was Minister of War until October 1915. He was President of France between 1920 and 1924.
King Albert (1875-1934) was King of Belgium from 1909 to 1934. He was Commander-in-Chief of the Belgian Army. Under his leadership the Belgian Army had made a gallant stand against the invasion of his Kingdom by the German Imperial Army on 3rd August 1914. The Belgian Army was forced to withdraw to the Flanders coast by the vastly superior number of troops in the German advance. Albert remained in Allied held territory at the Belgian Army Headquarters throughout the next three and a half years of static warfare on the northern end of The Western Front. In October 1918 he lead the Belgian Army to victory when it recaptured and liberated the Belgian coastal region from German occupation.