Support from Canadian 2nd Brigade
22 April 1915: 19.40
Just after 7pm Colonel G B Hughes of 3rd Canadian Infantry Brigade HQ (at Mouse Trap Farm) had called on 2nd Candian Infantry Brigade for help:
"Are back on G.H.Q. line attack coming from west. Urgent support necessary." (1)
He also sent a similar message bearing grave news for the 1st Canadian Division heaquarters at 7.10pm. The message was received half an hour later by hand at about 7.40pm.
"We are forced back on G.H.Q. line aaa Attack coming from west aaa No troops left aaa Need ammunition badly aaa Have asked 2nd Brigade to support" (2)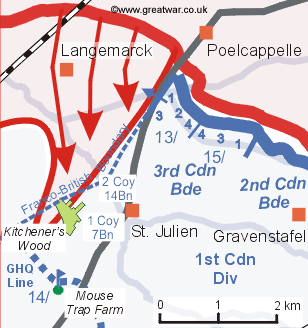 Colonel Romer, of the 1st Canadian Division HQ, had already sent a message to 2nd Brigade to urge them to hang on:
"The left of 3rd Brigade has been driven back but right is standing fast aaa You must hang on and take care of your own left." (3)
At 7.55pm another message was sent by Colonel Hughes of 3rd Brigade HQ to 2nd Brigade. He reported that 3rd Brigade had no troops between Mouse Trap Farm and St. Julien. He asked if the 2nd Brigade could therefore occupy this line:
"We have no troops between C.22.b [trench map reference for Mouse Trap Farm] and ST. JULIEN aaa Can you occupy this line please reply." (4)
Indeed, the 3rd Brigade HQ had no more reserves to call on from within its own brigade. The deployment of 3rd Brigade troops was presently as follows:
Two of its four battalions, the 13th and 15th, were in the front line.
The 16th Battalion was presently digging in on the west bank of the Yser Canal as one of the two divisional reserve battalions.(5)
The 14th Battalion was the brigade reserve battalion and its three available companies, 1st, 3rd and 4th, were already in the G.H.Q. Line near Mouse Trap Farm (3rd and 4th Companies) and at Hampshire Farm (1st Company). (The 2nd Company 14th Battalion was somewhere north of St. Julien and contact had been lost with it from 6.00pm.)(6)
1st Company 7th Canadian Battalion, 2nd Brigade
However, there was already now one company from 2nd Brigade in the area between Mouse Trap Farm and St. Julien. This was the 1st Company from the 7th Battalion under Captain Warden. This company had moved forward from Wieltje via Vanheule Farm to the south east of Kitchener's Wood.(7) 3rd Brigade HQ did not know this yet.
Next>> British Second Army HQ responds to the German attack
Acknowledgements & Notes