German 52. Reserve Division attacked south of Pilckem
22 April 1915: 20.00
According to the German Official History reports came in to the 4th Army command at Tielt that as the 52. Reserve Division was continuing its advance at 6.45pm [British time] it was attacked on the high ground south of Pilckem village.
The German Official History writes that the German division believed it had come into contact with French infantry reserves and the field artillery. They were being swept backwards "in a flight of panic" before the advancing front of the German Army but were putting up a fighting retreat.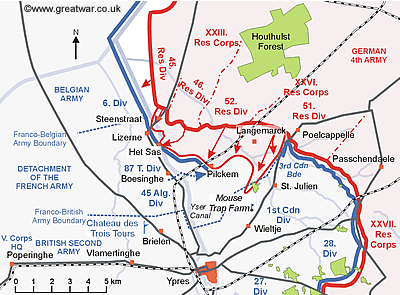 It is believed that the mention of this attack on the German division might also refer to the French counter-attack by the Zouaves under Colonel Mordacq's command, which actually began from 8pm.
Next>> Canadians report that enemy rifle fire has slackened