The Germans capture Langemarck
22 April 1915: 18.00
The French troops of the 45th Algerian Division in the immediate vicinity of Langemarck were not badly affected by the gas. The full force of the gas cloud seemed to miss the men garrisoned in the village. It could have been due to the suggestion that the April sunshine had warmed the ground up in and around the village and the gas had not been able to cling to the damp ground as had been expected.(1)
The Frenchmen in Langemarck tried to put up a stubborn defence. Although the German regimental history of 238 Reserve-Infanterie-Regiment states that some of its troops were in the village within a few minutes of the launch of the infantry assault, it was close to 6pm by the time the 51. Reserve Division had secured the village.
Oberleutnant Mattenklott, commander of the 8. Company (in II. Battalion, 238 Reserve-Infanterie-Regiment), gives an account of his company leaving the German trench, heading south across the ground west of Langemarck village. His battalion's left flank was to pass by the windmill on the west side of Langemarck: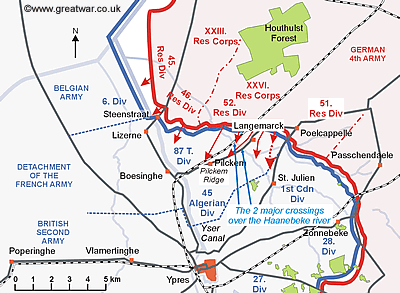 "As the white and coloured Frenchmen realised what was happening they ran back into Langemarck leaving their weapons behind. We stood up and fired at them. At 5.20pm [British time] our advance began. The assault bridges were thrown across the trenches. Pioneers and infantry pioneers with special equipment for the assault cut through our own barbed wire defences. The company poured through the lanes cut in the wire in the direction of the enemy. When we arrived at the French positions we paused for a short while so we could chase off the fleeing French with our rifle fire." (2)
As the light began to fail and the evening drew on Langemarck was captured. This village had been fought over by the German and French Armies in the bloody battles five months earlier in November 1914; thousands of soldiers had already lost their lives in and around this small Belgian village.
Orders to Continue the Advance to St. Julien
The delay of the 51. Reserve Division advance at Langemarck was serious, as its neighbouring 52. Reserve Division, the right wing division in the XXVI. Reserve Corps, was by now already some 3 kilometres from the German front line and reaching its first objective on the Pilckem Ridge.
Once Langemarck village was in German hands the 51. Reserve Division commander, Generalmajor Friedrich von Kleist, received orders that he was to continue his advance. Within the remaining hours of the day the left wing of his division was to cross the Haanebeke river south-west of Langemarck, capturing the two main river crossings here - these being the railway and the Pilckem-Langemarck road bridge - still in tact. If possible he was told to press on to the south and east and capture St. Julien.
Next>> Left of the Canadian line in danger of envelopment