The French organise a counter-attack from Boesinghe
22 April 1915: 19.30
French opposition on the left wing of the German 46. Reserve Division made it more difficult for the German infantry to reach the eastern bank of the canal opposite Boesinghe village.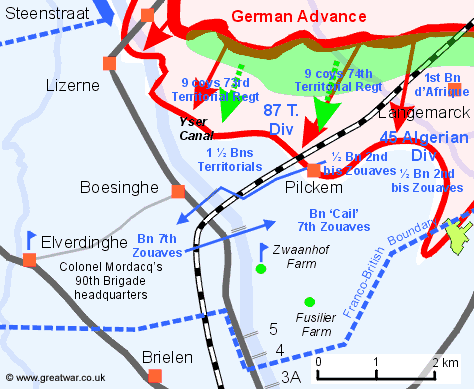 Colonel Mordacq, commander of the French 90th Brigade (45th Algerian Division), had ordered the battalion of 7th Zouaves, presently located on the western canal bank near Boesinghe, to carry out a counter-attack as soon as possible. He then ordered the half battalion of 2nd bis Zouaves (located north-east of Pilckem at the launch of the German attack) to move to the rear and cross the Yser Canal onto the western bank. From here they were to defend the canal crossings at Boesinghe. Explosive charges were laid at the railway bridge south of Boesinghe ready to be blown if necessary. The Germans continued to make attempts to cross the canal near Boesinghe during the night but were held off.
Colonel Mordacq had a meeting with his divisional commander, General Quiquandon (of 45th Algerian Division), at the divisional command post in Elverdinghe. Colonel Mordacq then set off for a farm called Zwaanhof Farm on the eastern canal bank and established his command post there for the counter-attack.
Tragically the padre of the French 90th Brigade, abbé Gaillot, was killed after a courageous attempt after dark to go alone in search of wounded Frenchmen on the eastern banks of the canal. On his return he was mistaken for the enemy and fired on by French soldiers guarding the bridgehead.(1)
Next>> 3rd Canadian Brigade requests support from 2nd Canadian Brigade