The German advance reaches the Yser Canal at Steenstraat and Het Sas
22 April 1915: 19.30
Units of the 45. Division and some units of 46. Reserve Division continued their attack on the village of Steenstraat on the eastern bank of the Yser Canal after darkness had fallen. The village was being held by the French Army. The village and the main canal bridge were eventually taken with heavy German casualties.(1)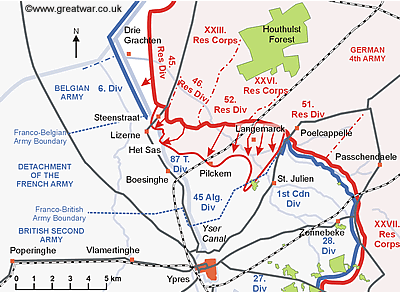 The operational first objective for the 45. Reserve Division was to take both Steenstraat and Lizerne(2). This would then mean that the Germans were holding ground on both sides of the canal at one of the major canal crossings. The German soldiers were ordered to press on and continue the attack across the canal, continuing their advance in the direction of Lizerne, which was on the west bank of the Yser Canal. However, it was too much for the already exhausted soldiers and the main German advance did not move beyond Steenstraat.
However, some units did cross the canal to establish a stronghold on the west bank at Lizerne. German bridging companies had followed close behind the cloud of gas and the advancing infantry carrying ready-made bridges of 7.5 to 9 metres (25 to 30 feet). With amazing courage they brought two reserve bridges into position after the first one was destroyed. They finally crossed the canal, occupied Lizerne and set up several advance posts.(3)
Het Sas
A little to the south of Steenstraat 46. Reserve Division (commanded by Generalleutnant Hahn) reached its first objective on its right wing; it made a swift advance to the Yser Canal and captured the lock at Het Sas.
To the north of Het Sas some units crossed the canal and established a bridgehead on the west bank of the canal.
Next>> A German soldier's account on reaching the canal