Pressure to try out the gas trial
10 April 1915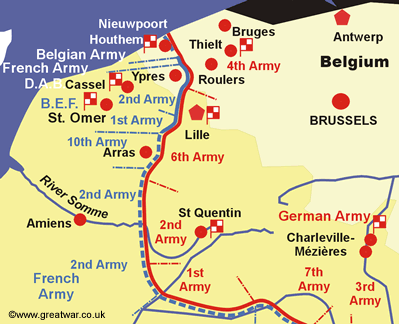 On 10th April Major-General Ilse, the Chief of Staff of German 4th Army, was summoned to Supreme Headquarters at Charleville-Mézières for a meeting with General von Falkenhayn. At the meeting he was informed that the trial of the gas cloud was now urgent and that it should be carried out as quickly as possible. General Ilse was also informed that there was a possibility that the XXVI. Reserve Corps, which was set to carry out the attack, might be removed from the Western Front.
Major-General Ilse hurried back to the 4th Army headquarters in Thielt as the installation of the gas cylinders was almost finished in the alternative sector north of the Allied Ypres Salient. (1)
Falkenhayn Uncertain about the Gas
General Erich von Falkenhayn, Chief of the German General Staff.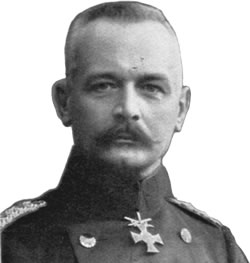 According to Major-General Ilse the German 4th Army was being pressed to carry out the gas attack although General Falkenhayn was uncertain about its likely success. Indeed, by mid April General Falkenhayn had decided that any offensive plans for the Western Front would have to be put on hold and he had already shifted his focus to the Galician battlefront in the east.
In 1931 Major-General Ilse wrote a document(2) about a discussion at a meeting between himself and General Falkenhayn at an unspecified date, presumed to be during March/April 1915. In the document Major-General Ilse maintained that Duke Albrecht, the 4th Army commander, had requested a division to be placed in reserve behind the attack. It was to be ready to move in and push deep into the Ypres Salient in order to roll up the Allied line once the breakthrough of the Allied front line had been achieved. According to Major-General Ilse the request was refused by General Falkenhayn for two reasons. First, he did not have that sort of 'spare' troop strength at his disposal and second, the success of the attack with the new gas was not one hundred percent certain. In addition to this, unfavourable weather could cause a major delay to the start of the attack for some weeks and General Falkenhayn did not have the resources to allow a complete division to be kept hanging around in reserve.
4th Army Re-allocates Troops as Reserves for the Attack
Because General Falkenhayn was not prepared to commit additional reserve troops to the 4th Army, the 4th Army headquarters in Thielt had removed the 43. Reserve Division from its own XXII. Reserve Corps on the Yser canal north of Ypres to use as a reserve force for the attack. When the attack was launched this division would be in position with three of its four infantry regiments and a field artillery brigade in the area of Roulers-Ingelmunster-Oostrosebeeke-Meulebeke-Ardoye (in the vicinity of Roulers, about 24 kilometres north-east of Ypres). The fourth regiment of the division was moved into the XV. Corps sector south-east of Ypres. A second reserve division, the Guard Cavalry Division, was placed in the area south of Bruges. (3)
Next>> Installation of the gas cylinders completed