German Fourth Army issues Operational Orders
8 April 1915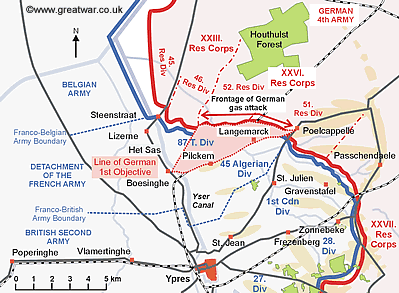 Operational Orders for the attack were issued to XXVI. Reserve Corps by the German Fourth Army on 8th April. The objective was as follows:
"Seizure of the ridge marked by the road Boesinghe-Pilckem-Langemarck-Poelcappelle.

After the objective is reached the troops are at once to dig in, arranging for mutual flanking by means of supporting points."
The map shows the line from Boesinghe - Pilckem - Langemarck - Poelcappelle as the objective to be reached by the two divisions of the XXVI. Reserve Corps. Theses divisions were the 52. Reserve Division and part of the 51. Reserve Division. The frontage of the German attack was to cross over into the enemy lines of part of the French 87. Territorial Division and the French 45. Algerian Division.
Next>> General Sir Douglas Haig's diary