Second attempt to launch the attack
18 April 1915
During the night of 18th/19th April hundreds of German troops were ordered for a second time to "Stand To". This was to be the second attempt by the German 4th Army to launch the attack with gas.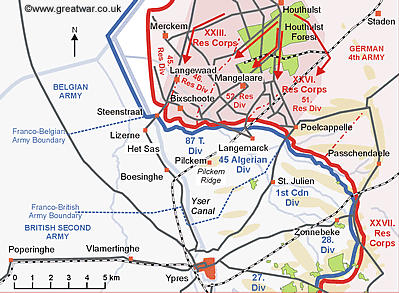 On the night of 18th April the German troops were "Stood To" for a second time in readiness to move into their assembly positions for the launch of an infantry assault. The night was pitch black. The history of 238. Reserve-Infanterie-Regiment writes of an enormous movement of traffic in the form of troops, columns and Staff headquarters making their way along every road heading in the direction of the enemy. Despite the lack of any moonlight to assist the Germans as they moved, the operation went smoothly and silently.
However, for a second time the troops were ordered to stand down. Again they had to withdraw from the front line positions in the early morning because the wind had changed direction. Day was already dawning. Fortunately there was a thick morning mist like a blanket over the area. It gave some protection as the troops made their way back towards their billets. The withdrawal was carried out hurriedly due to the growing light of day. 238. Reserve-Infanterie-Regiment was moving back from its assembly positions north-west of Langemarck. The men quickened their pace as they made for the cover of the trees in the Houthulst Forest. The sheer number of troops and wagons trying to enter the wood in this rear sector resulted in a major blockage of men and transport columns on one of the main roads (referred to as the "Rogge-Strasse") through the forest. The gridlock was sorted out by some cool-headed officers who managed to sort out the difficult situation.
Next>> German "Big Bertha" gun bombards Ypres
Acknowledgements