Damage and civilian casualties in Ypres
20 April 1915
A British eye-witness reported:
"Shelling was now on the increase everywhere and all ranks had noticed it. On Monday 19th April the roads and bridges to north and east of Ypres had begun to receive attention. Now on Tuesday Ypres itself was being pounded. Enormous 1 ton shells from the German 42cm howitzer had begun crashing into the old town. This Big Bertha fired at the rate of ten rounds per hour and caused horrendous damage. A shell landing in the open blew a crater 15 feet deep and 40 feet wide."
As the shelling continued to increase a trickle of civilian refugees began to leave the city, heading west for the town of Poperinghe.
War Diary of the Ypres Town Major
The Town Major, Lieutenant-Colonel Hankey, wrote the War Diary for that day as follows:
"20th: Captain H A Pearson (Canadian YMCA) came and arranged for a house in the town to be appropriated for his use, for a branch of the YMCA for all troops in the town. A house was allotted ... near the POPERINGE gate.

A meeting was held of the Town Sanitary Committee.

An intermittant bombardment of the town continued all day and all night till 7.30am the following morning. Civilian casualties - 9 killed, 7 wounded." (1)
Damage caused to the historic buildings in Ypres from April 1915.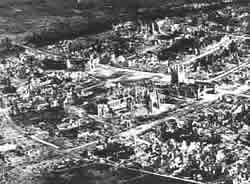 During the next 24 hours most buildings in the centre of the town, including the famous medieval Cloth Hall (the Lakenhalle) and St. Martin's cathedral, were on the receiving end of heavy shelling, which was the beginning of their systematic destruction.
Related Links
For information about the Cloth Hall in Ypres see our page at:
The Cloth Hall (Lakenhalle) of Ypres