Life in Ypres
19 April 1915
In spite of the fact that the front line was only a few kilometres from the eastern side of Ypres, many hundreds of inhabitants were still living in the historic mediaeval town and its surrounding villages. Restaurants, cafés and shops were still trading and doing good business with the large influx of Allied soldiers.
German artillery shelling of the Cloth Hall, causing damage so some buildings in Ypres, began in November 1914. The start of the demolition of the historic buildings in the heart of the town came in mid April 1915. GWPDA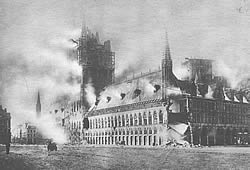 Up to this point in time the town and the area immediately around it had not been seriously affected by damage from German artillery or from the infantry fighting only a few kilometers to the east.
The weather in mid April 1915 was warm and sunny. Farmers were tilling their fields close up to the fighting zone and trees and plants were coming into bloom.
War Diary of the Ypres Town Major
The Town Major was Lieutenant-Colonel E B Hankey. He had arrived in Ypres on 12th April to take over the duties of Town Major. During the Battle of Gheluvelt at the end of October 1914 Major Hankey, as he was then, had played a prominent role in the defence of Ypres.
At the Town Major's office in the Rue Carlton his Staff comprised a Belgian interpreter, a Sanitary Officer from the British Royal Army Medical Corps, a Service APM, an Acting Garrison Sgt. Major, a clerk and an orderly. Two lieutenants were also attached to the Staff from the General Headquarters' Intelligence Department.
Damage caused to the historic buildings in Ypres from April 1915. Two French soldiers are in the foreground of the picture.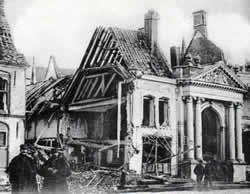 With reference to the situation in the town of Ypres as the German artillery began to bombard it, Lieutenant-Colonel Hankey wrote the following in the War Diary:
"19th: The town was bombarded from 10am to 12.30pm. Casualties amongst the inhabitants: 9 killed, 8 wounded. I made arrangements for Belgian travailleurs to be employed permanently on the road near town drinking water supply which was getting very bad." (1)
Damage to the British Rear Areas
British units billeted in farms to the east of Ypres in the salient had suffered intermittant shelling from German artillery from late March.
Next>> Damage and civilian casualties in Ypres