New location prepared for gas attack
25 March 1915
As a result of the continual postponement of the trial gas attacks in the XV. Corps sector the commander of the German 4th Army, Duke Albrecht, decided to start preparing an alternative area. It was hoped that the wind would be more reliable in another sector of the Ypres Salient.
On 25th March he chose the front lines of 46. Reserve-Division and XXVI. Reserve Corps. This front spanned 6 kilometres from the village of Steenstraat on the Yser canal to the village of Poelcappelle (1). This sector had also been busy with preparations since March for the proposed infantry attack on the northern part of the Allied Ypres Salient.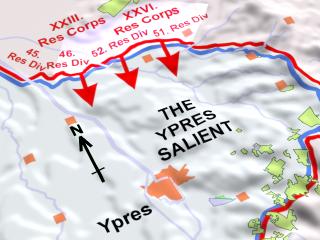 On 5th April 1915 Oberst Peterson and his special pioneer units set to work digging gas cylinders into this second trial area.
Next>> Gas cylinders discovered at Zillebeke