German "Big Bertha" gun bombards Ypres
19 April 1915
When the French left the sector east of Ypres and handed it over to the British in mid April they took with them their anti-aircraft guns, which were not replaced by similar weapons in the British force. As a result, the number of German aircraft flying over the Allied lines increased. In particular German aircraft made reconnaissance flights for the German artillery to help them register on sites of importance. The towns of Ypres, Poperinghe and the villages in the immediate area began to be shelled with more intensity from mid April.(1)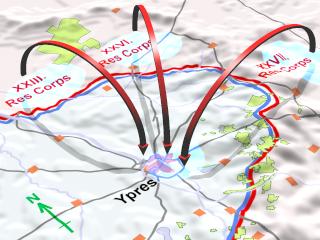 The artillery shelling of Ypres by the Germans in mid April was intended as a diversion to draw the Allies' attention away from the German front line in the north of the Ypres Salient.
From Saturday 17th April some of the 92 heavy German howitzers (2) behind the battle front to the north and north-east of the Allied Ypres Salient (XXIII. Reserve Corps; XXVI. Reserve Corps; XXVII. Reserve Corps) started up a long-range bombardment of Ypres.
On Monday 19th April the one German 42cm (17 inch) howitzer joined in the bombardment, firing shells weighing 1, 719lb (816kg) each. The shells were fired in pairs and, according to the British Official History, "travelled through the air with a noise like a runaway tramcar on badly laid rails".(3) This huge gun was located in the vicinity of the Houthulst Forest, north of Ypres.
The huge German 42cm siege gun was named "Dicke Bertha" by its designer and subsequently translated into "Big Bertha" by the British soldiers.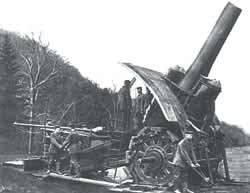 The 42cm howitzer had been developed since the 1890s by the German Army and the steel-making firm of Krupp. Originally developed as a coastal defence howitzer the design of the gun was modified by Krupp so that it could be dismantled and moved by road for use inland. Two of these mobile guns were built for the German Army and were used in Belgium and on the Russian Front in the First World War. The purpose of the gun was to demolish concrete fortifications, firing ten of its one-ton shells in an hour. Its range was about 10 kilometres (6.2 miles).(4)
With the destructive capabilities of such a huge weapon, the demolition of the historic medieval town of Ypres began.
The Name of "Big Bertha"
Portrait photograph of Bertha Krupp, taken by Nicola Perscheid before 1930.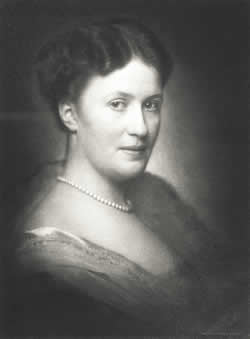 On the death of Friedrich Alfred Krupp (1854-1902) in 1902 his daughter, Bertha, had inherited the firm as the only child. In 1906 Gustav von Bohlen und Halbach had married Bertha Krupp. She was the great-granddaughter of the firm's founder Friedrich Krupp (1787-1826). With the marriage Gustav had adopted the Krupp family name as part of his own noble title. He took on the position as head of the Krupp family firm.
The name "Dicke Bertha" is said to have been given by the designer of the gun, Professor Fritz Rausenberger, naming it after Bertha as the owner of the Krupp firm. Bertha herself may not have been especially flattered by the implication of her size being associated with such a huge gun! As with so many of the names to be found connected with the Western Front battlefields, this German name was subsequently translated by the British soldiers into the well-known British name for this gun, and generally any other very large German gun during the war, as a "Big Bertha".