3rd Canadian Brigade ordered to be ready to counter-attack
22 April: 18.30
Responding to the German capture of Langemarck and the renewed pressure of the German advance onto the Canadian left flank at St. Julien, 1st Canadian Division headquarters sent a message at 6.30pm to 3rd Canadian Brigade. The brigade was urged to respond to the threat and to be ready to make a counter-attack if ordered to do so. The message was also sent to the Canadian divisional artillery:
"The French are being attacked between LANGEMARCK and POELCAPELLE aaa Bring fire to bear on German trenches opposite this Sector and be ready to counter-attack if ordered." (1)
Situation of No. 1 Company, 13th Canadian Battalion, is Precarious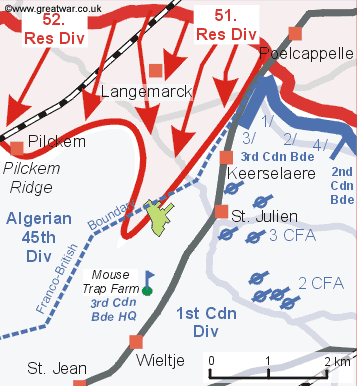 The sun began to set and darkness was falling. No. 1 Company (1/ on the map) of 13th Canadian Battalion was in the front line on the far left of the 1st Canadian Division sector. Major D R McCuaig, commanding officer of No. 1 Company, 13th Battalion, sent a message at 6.40pm by runner to his battalion commander, Lieutenant-Colonel Loomis. Lt.-Col. Loomis was in his headquarters in St. Julien. The message was received and forwarded to 3rd Brigade headquarters in Mouse Trap Farm. Major McCuaig confirmed that the Germans appeared to be in great strength.
He also confirmed that the Canadian field artillery (2 CFA and 3 CFA on the map) could aim fire on the north of the St. Julien-Poelcappelle road without hitting his own men. He suggested an immediate counter-attack should be made, but not from his present position in the apex of the new Canadian front line position:
"I have had to withdraw my men from barricade across POELCAPELLE road as it became untenable owing to fire from enemy's new entrenchment running at right angles to main line of trench and of course the section captured from the French. The Germans appear also to be in great strength. I think that a counter-attack delivered against the West end of new barricade would be successful. Very difficult and probably excessively costly to counter-attack from present position. Think that counter-attack should be made without delay. Artillery is safe in firing to north of road and would ease matters here. Our position is precarious." (2)
Next>> 1st Canadian Division's reserve battalions under orders to move at a moment's notice