Canadian 13th Battalion responds to the German attack
22 April 1915: 17.15
The rifle, artillery fire and the gas itself spread the alarm throughout the 1st Canadian Division area. The commanders gave appropriate orders to meet this strange event in the French 45th Algerian Division sector on their left.
The right wing of the French 1st Battalion Tirailleurs, on the immediate left of the Canadians, had not been badly affected by the gas and they had remained in their position. The men of the 2nd bis Zouaves (half a battalion), who were in support behind them to the north of Kitchener's Wood, had also remained in position.
Canadian Platoons Take up Positions on the St. Julien-Poelcappelle Road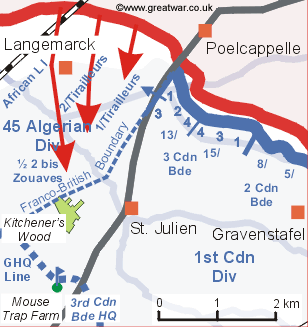 The left hand Canadian company of 13th Battalion was No. 1 Company under the command of Major McCuaig. He led one of his platoons across the Poelcappelle-St. Julien road and into the trenches of the 1st Company of the French 1st Battalion Tirailleurs of 45th Division. He found them holding a breastwork 75 metres from the road. They were exchanging brisk fire with German soldiers who were occupying a hedge about 100 metres away.
Lack of cover prevented any extension of the French line further to the rear, so half of the Canadian platoon took up a position in echelon and along the ditch of the St. Julien-Poelcappelle road. They were soon joined by another platoon and a Colt machine gun.
Several hundred metres behind the left of the 13th Battalion lay two supporting platoons of No. 3 Company under Major Edward C Norsworthy; they also lined the ditch of the road and swelled their numbers by collecting some Algerian riflemen (Tirailleurs) driven out of their positions by the gas.
13th Battalion Machine Guns
There were now seven machine guns mounted in the front line of 13th Battalion:
two were located in each of the three company frontages (Nos. 1, 2, 4 Companies) in sandbagged emplacements
one was with the two supporting platoons of 3 Company.