Butte de Warlencourt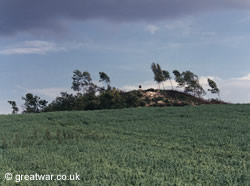 Content.
The wording on the WFA memorial reads:
"This ancient artificial mound, the Butte de Warlencourt, marks the limit of the British advance in the Battle of the Somme in 1916. Dominating the battlefield, it was strongly fortified by the Germans and withstood successive fierce attacks by the British 47th, 9th and 50th Divisions in October and November. On the German retreat to the Hindenburg Line in February 1917 it passed into British hands, only to be retaken in the German offensive of March 1918. On the 25th August 1918, during the final Allied offensive, it was reoccupied by the British 21st Division without opposition."
The memorial was unveiled by the President of the Western Front Association, the late John Terraine, on 30 June 1990 in the presence of the Souvenir Français-Arras Sector, officials and members of the Commune of Warlencourt, the Chairman Dr Graham Keech and members of the Western Front Association.
The Western Front Association (WFA)
The WFA was founded in 1980 by John Giles. It is an association of several thousand members worldwide. For information about the WFA see the website:
Website: www.westernfrontassociation.com
Location